A Special Thank You to everyone
who participated in this year's
OLD HOME DAY Parade & Celebration
Congratulations and "RESPECT!"
to the members of the Plainfield Fire
Department and thank you, team, for
100 years of service to your fellow townspeople.
Want October's Events? 
~Please scroll to the bottom~
This edition of the newsletter features
THE COLLECTION.

SAVE THE DATE!
Saturday, November 9th is


FREE BOOK DAY FOR KIDS
Anyone under the age of 18 accompanied by a parent or guardian is entitled to one brand-new free book from a selection purchased thanks to the generosity of a patron who prefers to remain nameless.  This person loves this town, loves books and loves libraries; this is their gift to all of the community's kids, in hopes that they'll discover the joy of books and of the library.  We'll be open 10 a.m. to 2 p.m., with a thank-you card for folks to sign who appreciate this act of generosity.
New and exciting, just in!
We have made some major collection development purchases in the past weeks, so we have more new books than usual right now. Below, find a sampling of 
interesting new non-fiction, fiction, junior fiction and young adult fiction titles (from over 140 new books, audiobooks and movies!) with direct links to the catalog record...
Big yoga : a simple guide for bigger bodies / 


Vb6 : Eat Vegan before 6:00 : to lose weight and restore your health... for good : the flexible diet you can really stick to, with more than 60 easy, delicious recipes /

The crowdfunding revolution : how to raise venture capital using social media /
We are all completely beside ourselves / 


Shine shine shine / 
The silver star / 




Mister Max : the book of lost things / 


Bluffton : my summers with Buster /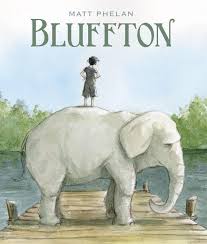 The house of Hades / 

2 COPIES! GET IN LINE NOW, RELEASE DATE IS TUESDAY OCTOBER 8TH
The Olympians graphic novel series by George O'Connell

Also... 7 new picture books for kids (including some all-time favorites) and 13 new DVDs, including 10 PBS documentaries and 2 full seasons of popular cable shows
---

Plainfield's Top 100
Everyone likes to compare; go ahead! In the last six months, these are the books (organized by category) that Cutler Memorial Library patrons sought out the most often.  See any of your personal favorites?  Titles at the start of most category have been checked out between 8-5 times, toward the end of each list, between 3-4 times since March. 
 
Adult Fiction: Flight Behavior (Barbara Kingsolver), The Casual Vacancy (J.K. Rowling), The Unlikely Pilgrimage of Harold Frye (Rachel Joyce), The Twelve Tribes of Hattie (Ayana Mathis), Life After Life (Kate Atkinson), The 13thTale (Diane Setterfield), The Round House (Louise Erdrich), The Art of Fielding (Chad Harbach), The Woman Upstairs (Claire Messud),The Matchmaker of Perigord (Julia Stuart), Friday Nights (Joanna Trollope), NOS4A2 (Joe Hill), The Storyteller (Jodi Picoult), We are All Completely Beside Ourselves (Karen Joy Fowler), Americanah (Chimamanda Ngozi Adichie), And the Mountains Echoed (Khaled Hosseini), The Sandcastle Girls (Chris Bohjalian), Farewell, Dorothy Parker (Ellen Meister), Orphan Train (Christina Baker Kline), The Guardian (Beverly Lewis), The Longings of Wayward Girls (Karen Brown),  By the River Piedra I sat down and wept (Paolo Coelho), Mary Coin (Marrisa Silver), Woke Up Lonely (Fiona Maazel), Tell the Wolves I`m Home (Carol Rifka Brunt), A Week in Winter (Maeve Binchy), When She Woke (Hilary Jordan), The Lacuna (Barbara Kingsolver), The Wolf Gift (Anne Rice), Once Upon a Time, there was You (Elizabeth Berg), Blackbird House (Alice Hoffman), the Panopticon (Jenni Fagan), Arcadia (Lauren Groff)
 
Mystery & Suspense: Gods and Beasts (Denise Mina), Midnight at Marble Arch (Anne Perry), Fall from Pride (Kate Harper), Inferno (Dan Brown), Stone Maidens (Lloyd Richards, local author), Harvest (Jim Crace), A Fistful of Collars (Spencer Quinn), The Golden Egg (Denise Mina), Dark Places (Gillian Flynn), Joyland (Stephen King), The Lottery Winner (Mary Higgins Clark), The Preacher (Camilla Lackberg), Promise Not to Tell (Jennifer McMahon, local author), 12th of Never (James Patterson), Sweet Tooth (Ian McEwan), The Beggar King (Oliver Pötzsch), Bury Your Dead (Louise Penny), How the Light Gets In (Louise Penny)
 
Sci-Fi: Woman on the Edge of Time (Marge Piercy), Kindred (Octavia Butler)

Non-fiction & Biography: Freedom Through Frugality (Jane Dwinnell and Vicki Robin), Birdseye, the adventures of a curious man (Mark Kurlansky), Buddhist Boot Camp (Timber Hawkeye), Overcome (Carmen Blandin Tarleton), Chaga, king of the medicinal mushroom (David Wolfe), Anne Perry and the Murder of the Century (Peter Graham), When You Are Engulfed in Flames (David Sedaris), Why Does the World Exist?: An Existential Detective Story (Jim Holt), The Town of Plainfield, VT (Plainfield Historical Society), Cooked, a natural history of transformation (Michael Pollan)

For Kids: The Demigod Diaries (Rick Riordan), Cabin Fever (Jeff Kinney), Battle of the Labyrinth (Rick Riordan), Elmo's big lift-and-look book (Sesame Street Board Book), Puff the Magic Dragon, Once Upon a Potty, How to Seize a Dragon`s Jewel (Cressida Cowell), The Kane Chronicles (Rick Riordan), Where Does Maisy Live? (Board Book), Pigs to the Rescue (John Himmelman), Ingri and Edgar Parin d'Aulaire's Book of Greek myths, A Perfect Time for Pandas (Mary Pope Osborne), There Was an Old Lady Who Swallowed a Fly (Board Book), Don`t Let the Pigeon Drive the Bus! (Mo Willems), The Mouse and the Motorcycle (Beverly Cleary), The Titan`s Curse (Rick Riordan), Extreme Dinosaurs (Robert Mash), Wheels on the Bus (Paul O. Zelinsky), the 3 Little Daisies (Jan Brett), Spot Goes to the Farm (Eric Hill), MOO (Matthew Van Fleet), Reckless (Cornelia Funke), Potty Time (Board Book), My Friend is Sad (Mo Willems)
 
Young Adult:  Inheritance (Christopher Paolini), The Edge of Nowhere (Elizabeth George)
 
Graphic Novels & Manga: Poseidon, Earth Shaker (George O`Connor), Unterzakhan (Leela Corman), Wild Ones (Kiyo Fujiwara), Babymouse 1 : Queen of the World! (Jennifer Holm), Hera : the goddess and her glory (George O`Connor), Afterschool Charisma (Komiko Suekane), Cardboard (Doug Tennapel), Athena, grey-eyed goddess (George O`Connor), Clan Apis (Jay Hosler), Hades, Lord of the dead (George O`Connor), Giants Beware (Jorge Aguirre), Bad Island (Doug Tennapel)
 
If you are surprised not to see a book on this list that you would like to recommend to your neighbors, please drop us a note at info@cutlerlibrary.org. But check before buying a book for us: we may have it on order already and you could sponsor its (discounted) purchase.
 
DO YOU HAVE OVERDUE LIBRARY MATERIALS?  
PLEASE RETURN THEM, OTHER PEOPLE MIGHT BE WAITING FOR THEIR TURN.
...and you`ll feel ever so much better after you do.  xoxox
 
---
COMING UP
!  We are located at 151 High Street
(One block east of the Post Office on Route 2).  Our events are always free and open to the public & (thanks to the Americans with Disabilities Act, the dedication of our trustees and grant-funding institutions,) our facility is wheelchair accessible.

The Classic Book Club
Meets at the Cutler Memorial Library (151 High Street in Plainfield) on the 1st Monday of most months, from 6 – 8 p.m.  On October 7th, they'll discuss the first four books (first half) of Anna Karenina by Leo Tolstoy. They'll discuss the remainder of the book on November 4th.  They are happy to welcome new members any time.  Call Daniel for more information or to confirm the next meeting, 793-0418.
 
Spooky Paper Arts Workshop
Sunday October 12, 4-5:30 p.m.
Ellen Bresler will show us how to make fun decorative objects from paper: a great calorie-free alternative to candy when trick-or-treaters knock on your door... bring scissors, if you have them.  This is an all-ages workshop: people under 7 should bring a helper, though.  Call 454-8504 for more information.
 
Plainfield Book Club
Meets at the Cutler Memorial Library (151 High Street in Plainfield) on the 3rd Monday of most months, new meeting time: 7 p.m. to 8:30 p.m. Please call Robin at 454-8509 for more information and to confirm next meeting.  At their October 21st meeting, they'll discuss Jennifer Egan's A Visit from the Goon Squad. New members are always welcome.
 
Smartphone Social Hour
Four times a year (October/January/April/July) on the 4th Thursday of the month, a panel of 3 savvy mobile device users with different brand devices will answer your questions about library- and non-library-related applications. 
1st Session: Thursday, October 24th, 5:30 p.m.
We'll serve something yummy and wholesome, since it's before dinner but after work!  BYOD (Bring your own devices). Want to recommend a panelist or volunteer yourself? Call 454-8504 or emailinfo@cutlerlibrary.org.